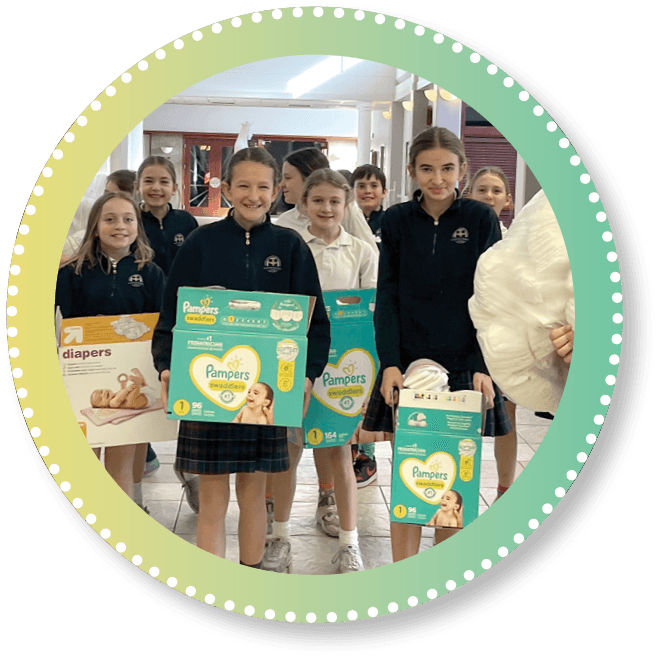 Includes excerpts from article by Jack Keenan, KETV Channel 7
---
Christ Child Omaha is proud to partner with area schools to bring Christ's love to communities through the layette program. During Catholic Schools Week, Mary Our Queen Catholic School held a school and parish-wide diaper and onesie drive culminating in an afternoon of service. The students learned about the Christ Child Society's work and history while bundling the diapers and onesies for future layettes. The generosity and commitment to service demonstrated by the students, parents, and staff at Mary Our Queen was amazing!
Skutt Catholic High School students took their turn serving others at a February assembly of 500 backpack-style layettes. Newborn necessities like handmade blankets, onesies, hooded towels, sleepers, pacifiers, and books filled tables in the Skutt Auditorium. The huge assembly ran smoothly, fueled by the energy and compassion the Skyhawks displayed for helping new mothers in need. For senior student, Kaden Weis, it's a cause that's close to his heart. "I have a single mom at home, so being here today helping out single moms just means a lot more to me. Baby stuff is really expensive, so with a single parent who only has one source of income, this would definitely help out a lot more than people think," Weis said.
Our fabulous volunteers delivered the baby backpacks to 30 agencies in Omaha, Lincoln, Fremont, and Council Bluffs. The successful day of service at Skutt was covered by both KETV Channel 7 & KMTV Channel 3!
Students at St. Margaret Mary also supported Christ Child Omaha and local moms in need by collecting diapers during their annual food drive. Thanks to all of our student volunteers!
---
Check it Out!
In collaboration with Omaha Rapid Response, Christ Child Omaha is sending 100 layettes to Ukraine this June. Rapid Response deploys to natural and man-made disasters — locally, nationally and around our world. As a faith-based organization, they provide compassionate relief and humanitarian aid in the midst of crisis and disaster. We are proud to participate in a small way to provide hope and support to a nation in need.