TESTIMONIALS FOR SCHOLARSHIPS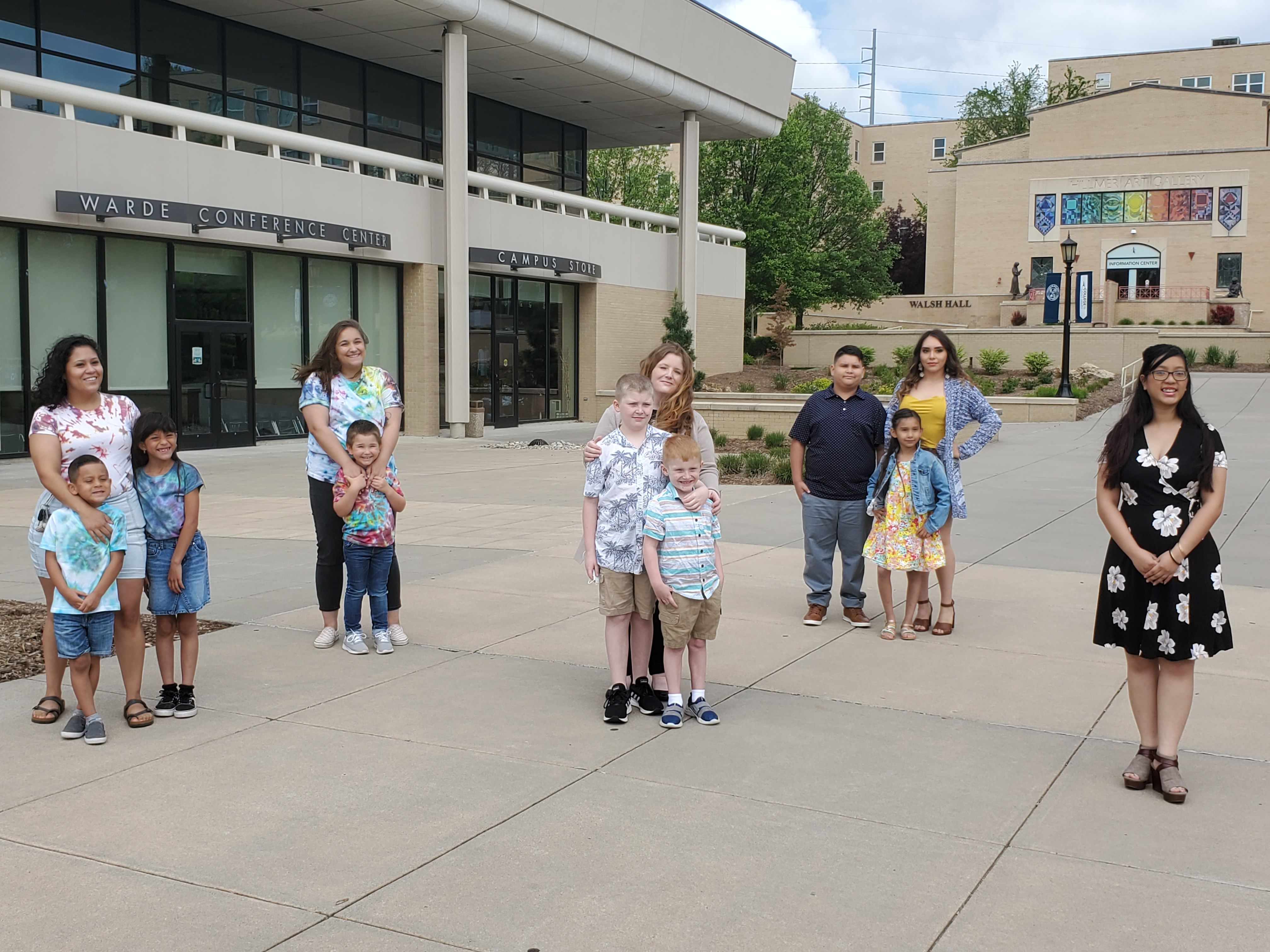 Pictured here are five of the six seniors sponsored by the Christ Child Society of Omaha who received significant scholarships to pursue their academic dreams.  All attended the College of St. Mary to earn degrees in nursing.  They graduated May 17, 2020.
Christ Child currently sponsors 10 other college students who are working hard toward their own graduation days. 
"Thank you, Christ Child Society, from the bottom of my heart. Any help helps so much. The scholarship I received took away the burden of having to pick up extra hours. It gave me the chance to spend more time with my kids, to spend more time studying, to be successful in school and be where I'm at today." – Martha Montes, 2020 College of St. Mary graduate
"This whole final semester I didn't have to work partly because of the help I got from Christ Child Society. To be able to say, 'I'm just going to focus on school as much as possible and do my best and finish strong and not be just another statistic – a single mom struggling to get by,' it has been a huge blessing." – Maricela Ruiz, 2020 College of St. Mary graduate
 "The scholarship from Christ Child Society was a help with finances, and it was an honor to receive the scholarship." – Hosanna Sok, 2020 College of St. Mary graduate
 "Christ Child Society of Omaha never doubted me. That scholarship was there because they believed in me, and now it's my turn to say thank you." – Sierra Weitzel, 2020 College of St. Mary graduate
 "Six years ago, I took the boys on my own and I made it a goal that I was going to do whatever it took to get my nursing degree and be where I want to be in life. College of St. Mary and Christ Child Society have given me the opportunity to do so. I'm forever grateful." – Erin Wright, 2020 College of St. Mary graduate
"With the grace of God, faith and amazing ministries like Christ Child Society, anything is possible. Don't ever give up. Make a goal and every day figure out something you can do to work closer to that goal." – Erin Wright, 2020 College of St. Mary graduate
 "To not have an education is really a deficit for (single mothers) because they may not be able to raise their child out of poverty. The Christ Child Society is helping them get their education. It means something not only for the woman who is in college but for her children. Generations to come will benefit from that scholarship." – Dr. Maryanne Stevens, RSM; president, College of St. Mary
TESTIMONIALS FOR LAYETTES
"I work with patient's from all kinds of situations.  It is not too uncommon to have a mother whose only baby bag is two 'Wal-Mart' (generic term for film plastic bags) inside each other and the baby's things in there.  They only have a few outfits and are missing many of the things a parent needs to care for a baby.  They are extremely appreciative to get the bag and the things inside of it.  I have seen those bags being used years later, often for new baby sisters and brothers.  Many families are VERY appreciative to get them, it makes a real difference in their child's life to have a few of the essentials. Teen mothers and the extremely poor are those who get them, I don't hand them out to everybody."    -Dr. Wesley Meyer, One World Health Pediatrician
"Thank you for generously donating the baby backpacks for refugee women. We appreciate your kindness and compassion."  -Refugee Women Rising
"So many of the families we assist have infants or will soon be welcoming newborns into their families. Your lovely layettes containing new items: diapers, burp cloths, wash cloths, pacifiers, thermometers, nail clippers, onesies and books will provide such a special gift for each family who receives a layette. It is because of your generosity that we can respond to the referrals of many social service organizations in our area that are assisting some of our most vulnerable neighbors facing difficult circumstances."   -The Furniture Project Omaha
"I was seeing a young infant for a visit and his mother disclosed that her partner had recently been arrested after an incident of domestic violence. The mother is now caring for this infant alone and has had to suddenly get a job and pay for childcare on her own. She was so thankful for the infant supplies we were able to give her to help care for her baby. Social work was able to reach out to her to offer support and resources as well. This act of generosity brought her to tears and she was so grateful for this support and kindness."  -Emily Braun, One World Health
Dr. McVea/One World Health on giving away her first layette:

"I don't know if it was even the material things that meant the most to her in that moment. I think it was really more the sense that her child was being welcomed into the community by people that she did not even know, and that in the midst of a really difficult situation, there were people there to help and support her. I want you to know that your generous gifts will definitely find good homes."